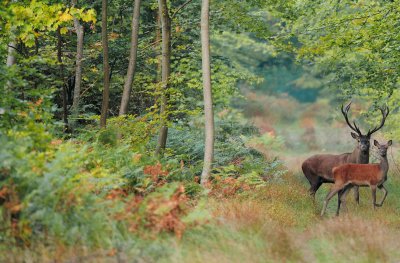 Compiègne forest
Discover Compiègne and its forest
From the 19th century, leisure outings acquired a more democratic status and Paris made Compiègne an ideal place for walking, highly prized by the bourgeois class. Come and discover Compiègne and its forests steeped in history.
Discover Compiègne: a green space near the Hôtel de Harlay
Today, come and discover Compiègne and the national forest of Compiègne is the third largest deciduous forest after that of Orléans and that of Fontainebleau. The national forest of Compiègne is made up of 41% beeches, 27% oaks, 9% charms, 7% pines.
The highest point of the forest is the plain of Haut Palesne in the South-East at 145 m above sea level. The Aisne separates it from the forest of Laigue to the north. To the south-east, the forest of Compiègne is separated from the forest of Retz by 2.5 km of crops.
Third national forest by its size, the national forest of Compiègne is located 80 km north of Paris, in the Oise valley. Together with the forests of Laigue and Ourscamps, it forms a vast forest massif in the south of Picardy.
Discover Compiègne: a forest in the middle of history
A forest shaped over the years and especially desires like the Eugenie route, named after the Empress, wife of Napoleon III. A 13 km long road that links the Palace of Compiègne to the medieval Fortress of Pierrefonds. In order to make the most of the forest, the Compiègne Tourist Office offers several themed tours. Geometrically, the outline of the forest forms a circle 14 km in diameter and 43 km in perimeter, its area is 14,417 ha.
In the 11th century, the places occupied by the forest were in Gallic times, a vast swamp, which will be partially cultivated in Roman times as shown by the many remains of farms or Gallo-Roman settlements.
Louis XIV had the great octagon laid out and 54 roads, Louis XV and Louis XVI had others drilled, up to 200. Napoleon I started the breakthrough of the Beaux-Monts.
Discover Compiègne: a forest, several aspects.
The forest of Compiègne begins a few steps from the heart of the city, near the old quarters. Crisscrossed by more than 1000 km of roads and paths, the forest of Compiègne offers a wide range of walks or hikes.
The allée des Beaux-Monts, the thematic trail of Mont-Saint-Pierre, the circuit of the ponds, the sports trail of the Grand Parc, the adventure park in the trees at the Saint-Pierre ponds.